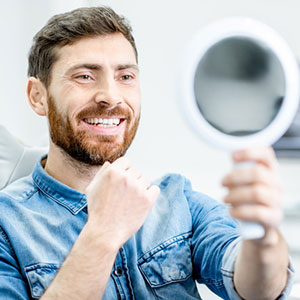 When you're buying a new car, it's good to take a gander at all the models in the showroom. But if you really want to know what a car is like, nothing beats taking it for a drive on the open road. The same might apply to your upcoming smile makeover—you'll learn more from a "test drive" than just looking at a mockup image on a computer monitor.
Now, there's nothing wrong with a digital model of your proposed smile. In fact, the advanced software to transpose the new look onto your facial photo is nothing short of amazing. But it's a static representation, and it can't show you how your proposed new smile looks with your facial movements and expressions.
But there is a way to see that extra dimension with a process called a trial smile, in which we create a mockup of your proposed smile directly on your teeth using composite resin. This dental material, used often to repair chips and other defects in teeth, can be shaped, molded and cured to resemble your proposed restorations like veneers or crowns. It's bonded to your teeth to simulate what your new smile will look like.
A trial smile is really a communication tool between patient and dentist. As you see yourself interact with the new look—talking and, of course, smiling—you can decide if you're satisfied with the results or would like to make some changes to the overall design. More importantly, you'll know exactly what to expect from your new look before we perform the actual work.
A trial smile is temporary and for display purposes only—we'll need to remove it before you leave from your visit. We can, however, take photos and videos of your new smile so you can review them later or show them to friends and family for their reaction.
A trial smile is an added expense to your dental enhancement budget. But that expense can be well worth it, helping to guide the planning process and to reassure you that the end result will be just what you've always wanted it to be.
If you would like more information on a smile makeover, please contact us or schedule an appointment for a consultation. You can also learn more about this topic by reading the Dear Doctor magazine article "Testing Your Smile Makeover."